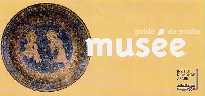 Click here for Museum Guide
Fotos der Ausstellungsstücke innerhalb des Musèes habe ich nicht gemacht. Es gab manche Artifakten zur Schrift, z.B. Qur'an-Seiten, die mich interessierten, und auch mathematische wie astronomische Instrumenten - z.B. Astrolaben - aus dem Goldenen Zeitalter des Islams. Sonst fand ich die Ausstellung etwas dürftig. Den Laden arabischer Waren gegenüber des Hauptgebäudes fand ich ergiebiger. Natürlich ist Aufgabe der IMA eigentlich nicht in der Hauptsache, ein Museum zu betreiben.

I took no photos of exhibits in the Musèe. There were a few artifacts concerning writing, e.g., pages of old handwritten Qur'ans, which I found interesting; as well as some mathematical and astronomical instruments - e.g. Astrolabes - from the Golden Age of Islam. Aside from that, I found the exhibition rather meager. I found the shop selling Arab wares across from the main building more inspiring. Of course, operating the museum isn't actually what the IMA is all about.