Mammoth 2012
Mammoth Lakes & Yosemite National Park
California, 2012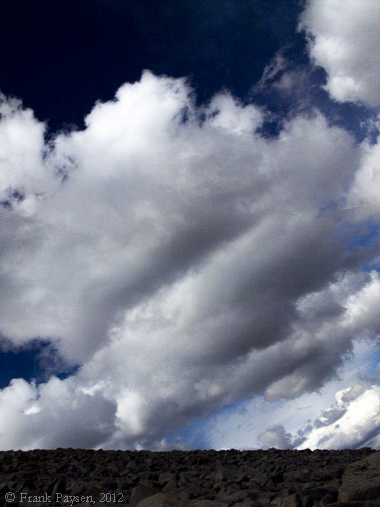 Ceci n'est pas un Magritte
Summary
On Day One, Bill, Stella and Frank take up a loose end from last year, and continue above Sky Meadow to make an attempt at reaching Mammoth Crest. Nobody is suffering altitude too much, and we have a good hard day. Frank particularly falls in love with talus, and spends most of the day immersed in it. Much to Bill's consternation.
On Day Two we rest up from the day before by doing an intermediate hike through Little Lakes Valley and climb to Morgan Pass.
On Day Three, Stella and Frank take an actual rest day and go shopping and work on photographs, while Bill does a shorter bike ride
On Day Four we have our epic stage, summiting Mount Conness after the somewhat arduous climb up the rock slide, the sandy desert ridge between White Mountain and the Conness Summit Block, and of course the very photogenic Conness arête itself. We're rather tired at the end of it.
On Day Five we have another easy day, taking a couple of walks to Inyo Craters and Hot Creek, which also offer some good photographic captures
On Day Six, Bill and Frank climb Mammoth Peak, a much tougher climb - at least for Frank, who took the tougher route - than Conness, but far less spectacular looking. It was a day of hard work, and certainly interesting, but the fun of it isn't captured in the photos (those have other qualities) - the video captures it better.
On Day Seven, Stella and Frank are gone, while Bill interrupts his trip home with a long hike in Tenaya Canyon. You'll need to visit his site to see the pictures, though.